African violets have long been the favorite of all houseplants. Their seasonless blooming adds beauty to our lives and their ease of care make growing them rewarding.
The Albuquerque African Violet Club was formed to promote interest and provide education for people interested in African violets. We meet the second Tuesday of most months at 1:00 at the Albuquerque Garden Center and we welcome visitors!

We having a sale!!!
We will be selling a limited quantity of member-grown plants on Saturday, August 1 and Sunday, August 2!
(sale ends when plants are all sold)
The sale will be:
August 1 and 2
9:00 a.m. - 11:00 a.m.

Albuquerque Garden Center
East Parking Lot
(masks and social distancing are required)

We had our first ZOOM meeting on June 9 and it was a success!

NEXT ZOOM MEETING!
August 11, 2020
1:00
(an email with the link will be sent out before the meeting)

POSTPONED!
2020 Spring Show and Sale
Our annual spring show and sale, normally in April, is now scheduled for August 1 and 2, 2020.

We sincerely hope that our members and friends are staying home and staying well!

AAVC Annual Spring Show & Sale


"Violets in the Land of Oz"
at the Albuquerque Garden Center
August 1 and 2, 2020

Saturday, 2:00 - 5:00 pm
Sunday, 10:00 - 3:00 pm


CANCELLED!
Unfortunately, our 2020 national convention has been cancelled.

AVSA's 74th Convention & Show
"Violets Go Hog Wild in Arkansas"
May 23 - 29, 2021

Little Rock, Arkansas

UPCOMING CONVENTIONS


Atlanta, Georgia

May 30 - June 6, 2021



Little Rock, Arkansas

May 29 - June 5, 2022






Information on the convention can be found at:
http://avsa.org/conventions-2020
AVSA's 70th Convention & Show
The convention came,
and went,

and it was AWESOME!!!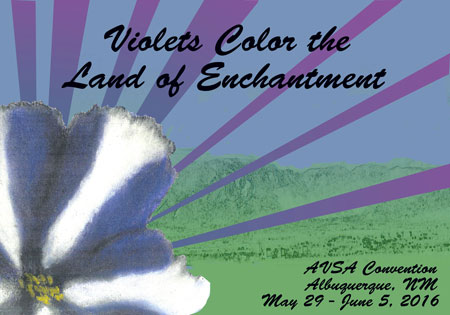 AVSA's 70th Convention & Show
"Violets Color the Land of Enchantment!"
May 29 - June 5, 2016
Crowne Plaza Hotel
1901 University Blvd NE
Albuquerque, NM!!! <----------------------------------------------------------

Find us on Facebook:
www.facebook/com/AlbuquerqueAfricanVioletClub


If you would like to be on our events emailing list, please email us at albqavc@albuquerqueafricanvioletclub.org and we will be sure to include you in our next mailing.